Robert Burns
---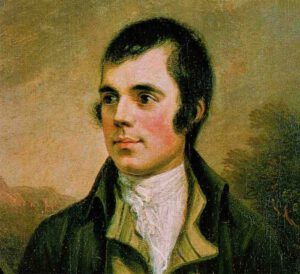 Robert Burns was born on January 25, 1759 in Alloway, Ayrshire.
He was a scottish Poet and wrote numerous Poems, as well as political Texts and Songs.
The most well-known 'Auld Lang Syne' has become part of the Tradition and is played punctually on New Year's Eve at 0 o'clock. In addition to Sir Walter Scott, he is considered the greatest scottish Poet, is remembered on his Birthday with the Burns Supper.
Youth and Education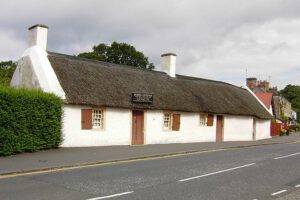 Robert Burns had six Siblings and came as the eldest Son of the Gardener and Farmer William Burns and his Wife Agnes Broun as simple circumstances. Nevertheless, he received a good Education at the request of his Father and learned from his Mother the Stories, Tales and Legends of his Homeland. Due to heavy physical work and poor nutrition in his Childhood, he got a Heart Defect.
From the Age of 7, Burns attended Grammar School in Ayr.
His Textbooks included the Bible and 'A Collection of Prose and Verses of the best english Authors', as well as the Biographies of Hannibal and William Wallace. In the autumn of 1765, the Family moved near Alloway, where there were no accessible Schools, so that Burns` Father took over the training himself. Particularly important to him were the Natural Sciences and the foundations of Calvinism, a theological movement that emphasizes above all the unconditional holiness of God. Only later was a sparse visit to the Parish School of Dalrymple possible. From 1773 he attended together with his Brother Gilbert the Latin School in Ayr, where they studied Latin, French and Mathematics.
First Prominence
In 1778, at the Age of 19, he moved to the Kirkoswald School, working on his Father's Estate and writing commissioned anniversaries for Birthdays and Weddings. On November 11, 1780, Burns founded the Debating Club Tarbolton Bachelor's Club with Friends at John Richard's Tavern. In 1781, Burns left his Father's Business after a quarrel and tried to make a living with a Weaver in Irvine through Flax Processing.
An accident burned down the House and Workshop, causing them to go bankrupt.
When his Father died in May 1784, he took over his Farm with his Brother Gilbert.
Failure to harvest and lack of economic success made the Idea to emigrate and take a Job as Administrator in Jamaica when he had success as a Lyricist and rejected the Idea again.
Life as a Poet
In the middle of 1784, Burns went to Edingburgh for over a year, where he was able to make Contacts that would help him with his later Releases. A year later, his Daughter was born by the Maid Elizabeth Paton, but he refused to marry her. He returned to the Highlands and began a Relationship with Jean Armour, with whom he had previously had an Affair and Twins.
In 1792 Burns, through the intermediary of James, Earl of Glencairn, obtained the office of Tax Overseer, earning him £ 70 a year, but not in his interest. Nevertheless, he wrote many Songs and political Essays in the following Years.
Freemasonry
On the recommendation of friends Burns was in July 1781 in the St. David's Lodge no. 174 was recorded as a Mason.
In 1782 he co-founded the St. James Lodge No. 178 and was from July 1784 to 1788 their assigned master (Deputy Master). October 1786 became an Honorary Member of St. John's Lodge No. 22 and was a Member of the Loudoun Kilwinning Lodge No. 51 and from February 1787 at the Lodge Canongate Kilwinning No. 2 in which he took over the task of the Log Poet from March 1787.
Due to his restless Lifestyle and Health problems Burns often became ill.
Also, the frequent consumption of Alcohol often obstructed him in his literary Works. He tried after a serious illness, a Cure in a neighboring Seaside Resort, but the hope of recovery failed.
Robert Burns died on 21 May 1796 at the Age of 37 as a Result of an Infection.
He was buried in the Cemetery of St. Michael's Chrurch in Dumfries.