Malcolm III.
gaelic: Màel Coluim mac Donnchada
---
*1031 (ca.)
†11/1093
Parents
Father: Duncan I.
Mother: Sybilla of Northumbria
Marriage
1st Ingiborg
2nd Margaret
Children
Ingiborg: 1 Son
Margaret: 6 Son´s and 2 Daughter´s
Coronation
04/1058 in Scone
Regenca
03/1058 to 1093
Malcolm III. – also known as Malcolm Canmore, Máel Coluim Ceann Mór and Calum Ceannmhor – was Son of Duncon I.
His real epithet was 'Long-Neck'. The Nickname Canmore wore only his Great-Grandson Malcolm IV. Malcolm was said to have been crowned King just a few days after the assassination of Lulax on 25 April 1058, this Date is only mentioned by the irish Chronicler Marianus Scotus.
Malcolm and Ingeborg
According to the 'Orkney Saga' Malcolm married Ingeborg, the widow of Thorfinn Sigurdsson, around 1059 without mentioning the later marriage with Margaret. The marriage with Ingeborg secured Peace in the north and west of the Country. It is also said that he had with her a Son named Duncan, who later became King. It is believed that rumors have been spread by his Children and the later Margaret that Duncan was illegitimate in order to defeat the Claim of his Children's Throne.
Even though 1070 is called the year of Death, it is believed that it died in 1058.
Malcolm and Margaret
At the latest from 1066 Malcolm tried to resist the increasing interference of England.
Among other things, he granted Asylum in 1068 to an english Group that was fleeing from William I. and met Margaret for the first time. After a year, the "Exiles" returned to England. After the previous attempts were unsuccessful, Malcolm changed his Tactics and tried now to connect with the english Crown. In 1070 he married Margaret, who after fleeing from the 'Battle of Hastings' in the direction of Hungary, in distress and received after Shipwreck in Scotland Hospitably at the Court of Malcolm, whereby he was able to consolidate the alliance with England.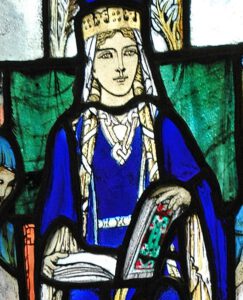 What Malcolm did not know…
Margaret's main concern was to align the celtic Church with the roman-catholic one. She succeeded because she combined Romanization with Caritas and good Education Policy. Again and again she appeared with Malcolm as a Benefactor, founded Hospitals and regularly visited the Sick and Prisoners. Although Margaret had deep roots in the celtic Church, within a few decades she succeeded in almost completely romanizing it. The Margaret's origin was english, is clear from the naming of their Children with Malcolm, which represented a breach of the scottish Tradition. Previously chosen only gaelic Names, she gave half of her Children english Names.
At age 46, Margaret died on November 16, 1093 in Edinburgh after a year-long painful Illness.
In 1251 she was canonized by Pope Innocent IV. Her day was commemorated in the catholic and anglican Churches.
Malcolm and William Rufus
As Malcolm submitted to the english King, he did not participate in a Rebellion of the Followers of Robert II. against William Rufus, Son and heir apparent of William I. On the contrary…
He besieged in May 1091 the year before by Robert II. founded Newcastle.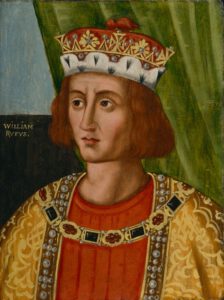 When William began building a Castle and settling Peasants near Carlisle in 1092, Peace began to crumble.
To discuss the Issues, Malcolm invited William to Gloucester to discuss the problems. When Malcolm arrived there on August 24, 1093, he found that William had not appeared, but instead instructed the english Barons to settle the matter, which Malcolm refused and returned to Scotland. Although William Rufus did not want to provoke War with it, the anglo-saxon Chronicles say that one broke out:
"Because of this, they parted in great dissatisfaction, and King Malcolm returned to Scotland. And soon after his return home, he summoned his Army and came terribly to England with more hostility than was necessary."
Malcolm was accompanied by his eldest Son and Heir, Edward, as well as his Son Edgar.
On his return to Scotland in November 1093, he and Edward were killed in an Ambush by the Earl of Northumbria Robert de Mowbray. The Death Message was delivered by Edgar to his Mother Margaret.
The Annals of Ulster states:
"Malcolm, Son of Duncan, supreme King of Scotland, and his Son Edward were killed by the French in Inber Alsa in England. His Queen Margaret also died of grief within nine days."
Malcolm's Body was buried in the Tynemouth Priory and later reburied into the Abbey of Dunfermline.
According to Legend, when the Bones of Margaret were exhumed after their sermonization and brought to the Altar of the Dunfermline Abbey in a Reliquary, the Reliquary should have become as heavy as the Tomb of Malcolm happened that it no longer belonged to the Place touched. Malcolm was also exhumed and buried next to the Altar with Margaret.
---
Malcolm III. | Donald III., Edmund & Duncan II. | Edgar | Alexander I. | David I. | Malcolm IV. | William I. | Alexander II. | Alexander III. | Margaret