The Battle of Solway Moss
November 1542
---
Prehistory
After his break with the roman catholic Church, Henry VIII. asked his Nephew James V. to do likewise.
James refused, however, and did not appear for a specially arranged Meeting. As a Result, Henry was deeply offended and annoyed, sending an Army to invade Scotland. James responded to this Provocation and ordered Robert, Lord Maxwell and Warden of the West March also set up an Army.
The Battle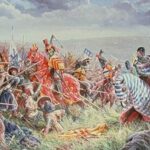 As Commander, James actually preferred Oliver Sinclair de Pitcairnis. Since his Arrival was delayed, Robert Maxwell insisted on Leading the Army. The remaining Commanders refused to give Maxwell the necessary Support.
At the End of November, about 18,000 Scots crossed the Border and hit 'Solway Moss' with the 3,000 Men of the english Army led by Thomas Wharton. Now it showed the lack of Support Maxwell.
The poorly-coordinated Scots met the english Cavalry, were pushed back and lost after brief fighting, cooped between River and Swamp, the Field Artillery consisting of ten guns. Finally, near the Mill levee at Arthuret, they were finally stopped.
The english Commander Wharton and his Adjutant William Musgrove then reported on the Battle.
Thomas Wharton described it as a Raid of the Scots between the rivers Esk and Lyne. William Musgrove reported that Maxwell and a small remnant of scottish Nobles had bravely fought after being forced to abandon their Horses on the Banks of the Esk.
Consequences
James, who had stayed in Lochmaben, died two weeks later at Falkland Palace.
On the Deathbed he allegedly mourned the loss of the Banner and the Capture of Oliver Sinclair. High Nobles were allowed to return to Scotland if they offered an acceptable Hostage or someone could vouch for them. The remaining Hostages were first brought to 'Newcastle upon Tyne', later to the english Court. Contrary to initial fears, Henry VIII's Prisoners were well treated and even gifted to make them "friendly to England." In the following years, the other Prisoners were able to return to Scotland after a ransom payment.
Historians believe that this did not affect Henry's Policies or the Decision of scottish Nobles to reject the Peace Treaty of Greenwich in 1543.
The former Battlefield is now registered at English Heritage and is archaeologically examined.