Donald III. & Edmund
gaelic: Dòmhnall mac Dhonnchaidh
& Etmond mac Maìl Coluim
---
*1033 (ca.)
†1099
Parents
Father: Duncan I.
Mother: Sybilla of Northumbria
Children
1 or 2 Daughter´s
Coronation
unknown
Regency
11/1093 to 05/1094
1094 to 1097
*unknown
†unknown
Parents
Father: Malcolm III.
Mother: Margareta
Children
2 Son´s
1 Daughter
Coronation
Ø
Regency
shared with Donald III.
*1060 (ca.)
†11/1094
Parents
Father: Malcolm III.
Mother: Ingiborg
Marriage
Ethelreda of Northumberland
Children
(illegitimate) William, the later Earl of Moray

Coronation
Ø
Regency
from 05/1094 for few Months
After the Death of Malcolm III. english Influence was a big topic in the succession to the scottish Throne.
The Clan Leaders therefore advocated the accession of Malcolm's Brother Donald (Dòmhnall mac Dhonnchaidh), who shared the Rule with his Nephew Edmund (Etmond mac Maíl Coluim). There is no Evidence that he was crowned, but is considered the last Ruler who felt committed to the celtic Tradition.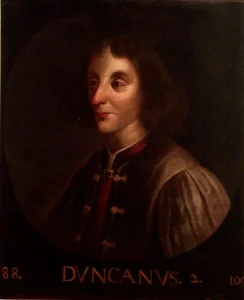 Duncan -son of Malcolm III. with his wife Ingiborg- stayed at the beginning of Donald's and Edmund's reign in England, from where he claimed the scottish Throne. With the help of English troops, he marched into Scotland in May 1094 and took power over Scotland as Duncan II. Only a few months later, Duncan was killed at the Battle of Monthechin, leaving Donald and Edmund back in power.
Their policy directed against England and its Norman rulers led to further military conflicts
While Donald was taken prisoner and died at Rescobie in 1099, Edmund was able to escape and live as a monk in Somerset.
---
Malcolm III. | Donald III., Edmund & Duncan II. | Edgar | Alexander I. | David I. | Malcolm IV. | William I. | Alexander II. | Alexander III. | Margaret