Das Commenwealth von England
---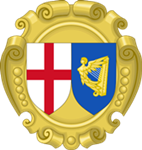 Wenige Wochen nach der Hinrichtung Charles` I. rief das Unterhaus des Parlaments die Republik aus.
Unter dem Begriff Commonwealth of England -Anfangs aus England und Wales bestehend, später kamen noch Schottland und Irland hinzu- wurde die Regierung nun vom Unterhaus als "Parliament of England" geführt. König und Oberhaus des Parlaments wurden abgeschafft!
1653 wurde das Parlament aufgelöst und ein Lordprotektor wurde die einzige Legislative.
Lordprotektoren während des Commenwealth